BAUDOUIN: A Complete Hybrid System Supplier
Electrical Power: 35 -150kW | Diesel Power: 95 – 1214kW
DNV-GL certified | All SAE interfaces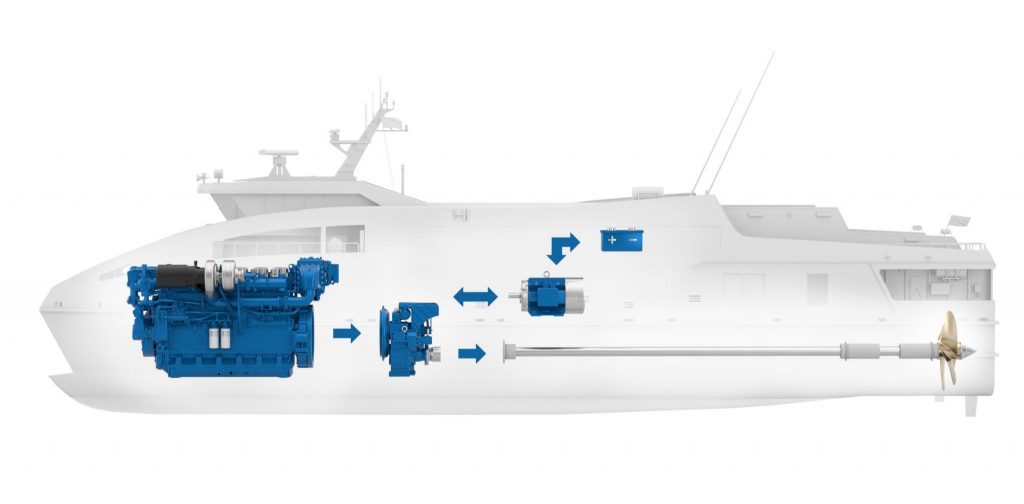 Total Support From Design Through Commissioning
Marine experts: Marine has been in our DNA for over a century. Our hybrid solutions are designed for marine needs, and we are committed to supporting our partners' challenges for a greener world. From the idea to the realization, our R&D team is dedicated to partnering with you in your marine hybrid projects.
Energy audit: Baudouin has the ability to analyze the operational environment, vessel requirements, and load profiles to define a bespoke system that is tailor-made to be the most efficient solution for your vessel's needs.
Global service support: Baudouin has factory-trained technicians to support you in over 100 countries. 
Genuine spare parts available everywhere: Baudouin genuine spare parts are available wherever you are in the world. We can ship over 30,000 spare parts references within 24 hours.

Why Hybrid?
Emissions reduction
Noise reduction
Flexibility: power and fuel management
Optimization of the maintenance cost
Engine downsizing
The large bandwidth of applications: Passenger vessels, ferries, yachts
Customer requirements
Baudouin pure marine engines are known worldwide for their reliability and durability in a challenging marine environment. We are committed to designing marine powertrains that reduce exhaust emissions and control fuel consumption at any running cycle. In synergy with our sister companies, Baudouin experts have developed environmentally-conscious hybrid systems to answer complex customer requirements.
Partnership With Experts
Being part of the Weichai group allows Baudouin to leverage technological expertise with our sister company Aradex and other marine hybrid specialists, to be able to provide a fully integrated hybrid solution for marine applications. Together, we offer our marine customers, tailored systems that perfectly match their requirements.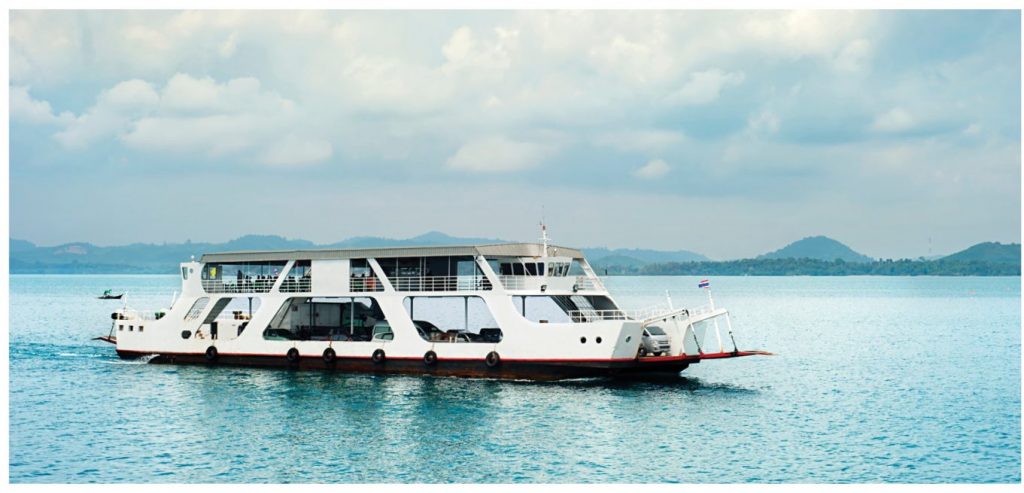 Hybrid Configuration
Series Hybrid with Genset
Utilizing onboard electrical generation systems, batteries can be charged and then discharged through onboard electrical motors to allow for low noise and zero-emissions operation. Efficiency improvements through optimal loading of the generators can improve fuel consumption, service costs, and exhaust emissions allowing reduced running hours and full electric operation.
Parallel Hybrid with inline Electric Motor
A diesel engine is connected via a clutch and gearbox to the propeller in a standard propulsion system. Also connected in parallel to the gearbox is an electric motor and battery pack, enabling the system to switch between an electric drive or a standard diesel motor. During operation the engine can be used to recharge the batteries which are then discharged to improve overall system efficiency, reducing fuel consumption and allowing for zero-emissions running.
Diesel Drive Mode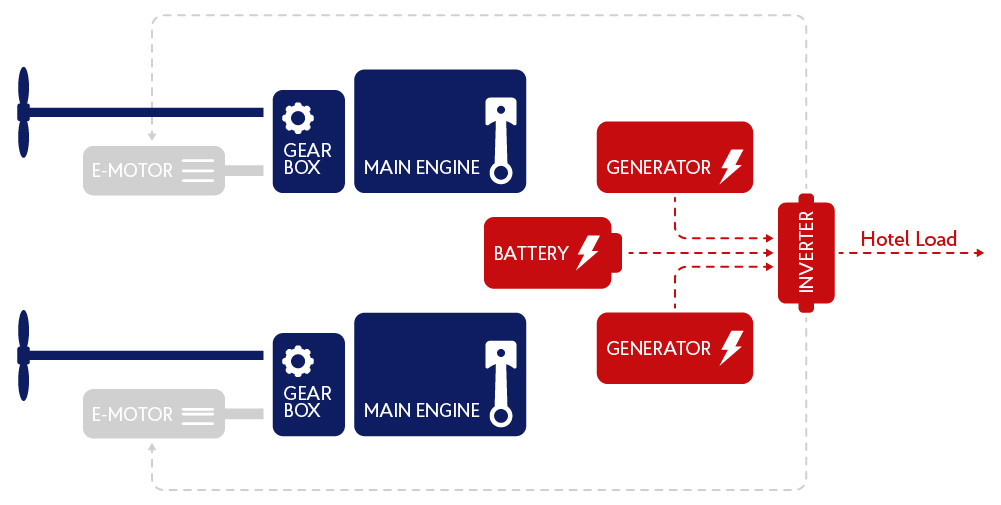 E-Motor off
Propulsion by main engine (Diesel)
Hotel load by main generator or battery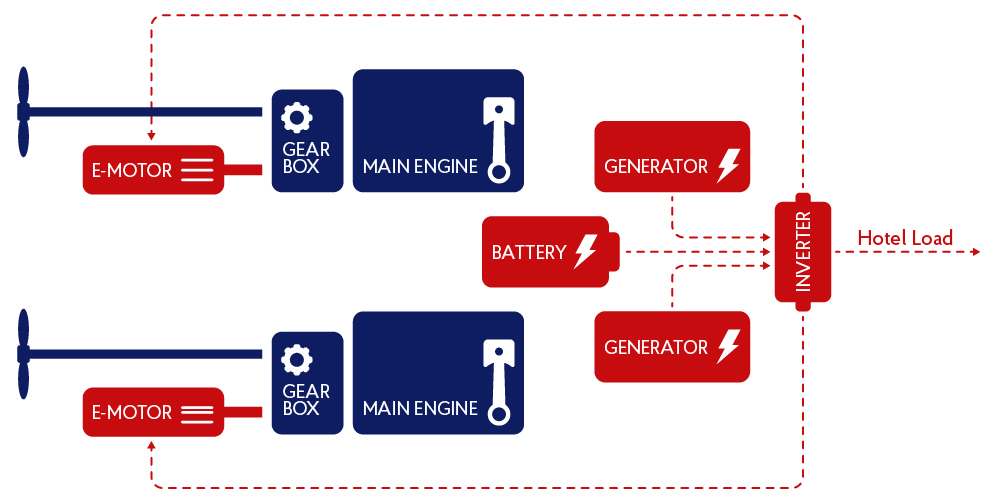 Main engine (Diesel) on
Main generator on
Propulsion by E-motor and main engine (Diesel)
Powered by main generator or battery
Hotel load by main generator or battery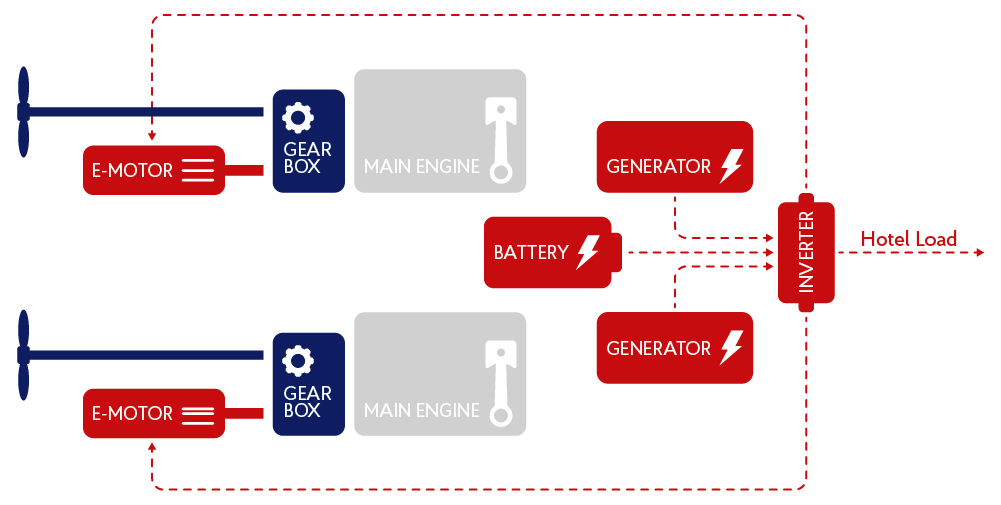 Main engine (Diesel) off
Propulsion by E-motor
Powered by main generator or battery
Hotel load by main generator or battery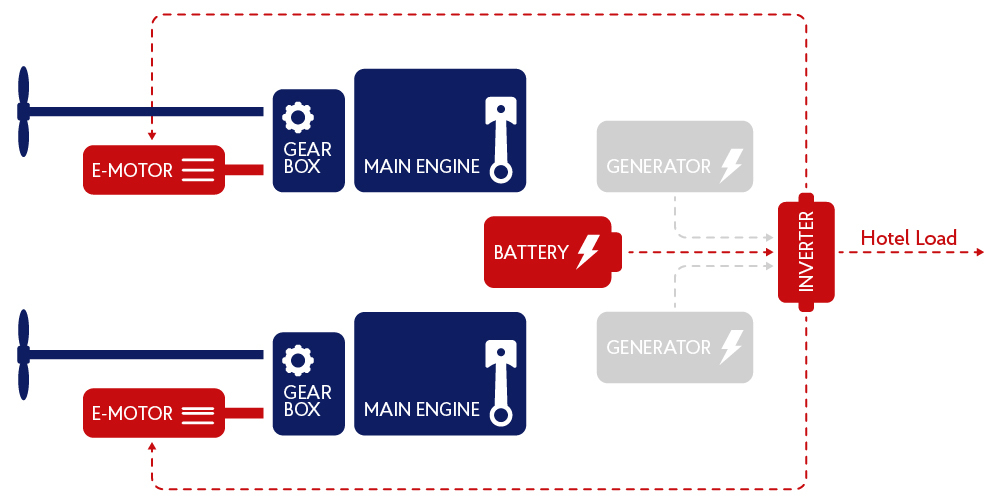 Main engine (Diesel) on
Propulsion by main engine (Diesel)
E-motor as generator driven by main engine
Main generator only switch on if additional load of battery or hotel load is required